Who were St. Francis & St. Jane?
The messages and teachings known as Salesian spirituality, so relevant to us today, come from two saints who lived more than 400 years ago.
Saint Francis de Sales (1567–1622)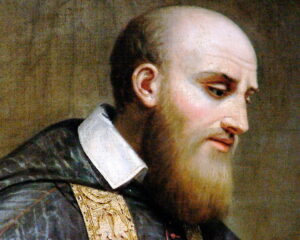 This exceptional writer and preacher taught that
• "being who you are and being that well" is the truest way to bring honor to the Creator.
• living out daily "little" virtues like kindness, generosity, gentleness and honesty, lead a person's heart to the heart of God.
In his time, he served as Bishop of Geneva, and was considered a
•gifted spiritual director
•reformer
•evangelist and catechist
Francis was a contemporary of Shakespeare and Galileo during a rich and tumultuous time in European history.
After his death, Francis de Sales was known as the Gentleman Saint for his gentle, loving spirit and approachable ways as a loving friend. Those characteristics are what make him and his teachings so accessible and meaningful to us today.
For centuries, numerous religious and lay communities have been inspired by Saint Francis and his writings. His teaching on "The Universal Call to Holiness" was embraced most fully in the teachings of Vatican II and resounds in the church of today and tomorrow.
Saint Jane de Chantal (1572–1641)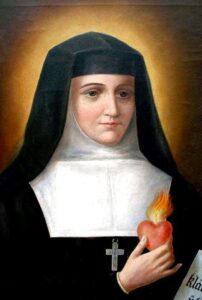 Although best known as the friend of Saint Francis de Sales, Saint Jane de Chantal was very much a significant woman on her own.
As a dedicated wife and mother, she dealt with the needs of her growing family while still showing compassion for the poor around her. When she was just 29, the husband she dearly loved died following a hunting accident, and Jane was left with a broken heart and the care of her four children. As a young widow and single parent, she encountered severe challenges, but her strong faith gave her the strength she needed.
She had what we would call today a "business mind," and after her husband's death, became the administrator of his father's properties in addition to those of her deceased husband.
With Francis de Sales, her friend and spiritual director, she founded the Order of the Visitation of Holy Mary, which today continues to provide a prayerful presence throughout the world. In the U.S. there are both contemplative sisters as well as those who provide education to young women and assistance to the poor.
Jane remained a mother at heart in all of her dealings. Her practical words and experiences offer hope and direction for those living busy and complicated lives today.